The ST100 Foodi 2-in-1 Flip Toaster is a revolutionary kitchen appliance that combines the functionality of a toaster and a compact oven, making it the ultimate kitchen companion. With its 2-slice capacity and powerful 1500 watts, this toaster is designed to deliver superior performance and convenience. Whether you want to toast bread, bake a quick snack, or even make a full meal, the ST100 Foodi has got you covered.
Key Features and Specifications
The ST100 Foodi 2-in-1 Flip Toaster is packed with innovative features that set it apart from traditional toasters. Let's take a closer look at some of its key features and specifications:
2-Slice Capacity: The ST100 Foodi allows you to toast two slices of bread at once, saving you time and effort in the morning rush.
Compact Toaster Oven: This appliance is not just a toaster, but also a compact oven that can handle a variety of cooking tasks. From baking cookies to reheating leftovers, the ST100 Foodi can do it all.
Snack Maker: Craving a quick snack? The ST100 Foodi comes with a snack-making feature that allows you to easily prepare delicious treats like mini-pizzas, bruschetta, and even toasted sandwiches.
1500 Watts: With its powerful 1500 watts, the ST100 Foodi ensures fast and efficient cooking, delivering perfectly toasted bread and evenly baked dishes every time.
Versatility at Its Best
The ST100 Foodi 2-in-1 Flip Toaster offers unparalleled versatility in the kitchen. Whether you're a busy professional, a college student, or a homemaker, this appliance is designed to meet your needs. Let's explore some of the ways you can use the ST100 Foodi in your everyday cooking:
Toasting Excellence
The ST100 Foodi takes toasting to a whole new level. With its precise temperature control and multiple browning settings, you can achieve the perfect toast every time. Whether you prefer a light golden brown or a crispy, dark toast, the ST100 Foodi has got you covered.
Baking Made Easy
Gone are the days when baking required a large and cumbersome oven. The ST100 Foodi's compact size makes it perfect for baking small batches of cookies, muffins, and other baked goods. Its convection heating technology ensures even heat distribution for perfectly baked treats.
Snack Time Fun
The snack-making feature of the ST100 Foodi allows you to get creative with your snacks. From cheesy quesadillas to gooey grilled cheese sandwiches, the possibilities are endless. Simply place your ingredients inside the toaster, flip it over, and let the ST100 Foodi work its magic.
Multipurpose Cooking
The ST100 Foodi is not limited to toasting and baking. It can also handle a variety of other cooking tasks, such as reheating leftovers, roasting vegetables, and even cooking small meals. Its versatility makes it a great addition to any kitchen, especially for those with limited space.
User-Friendly Design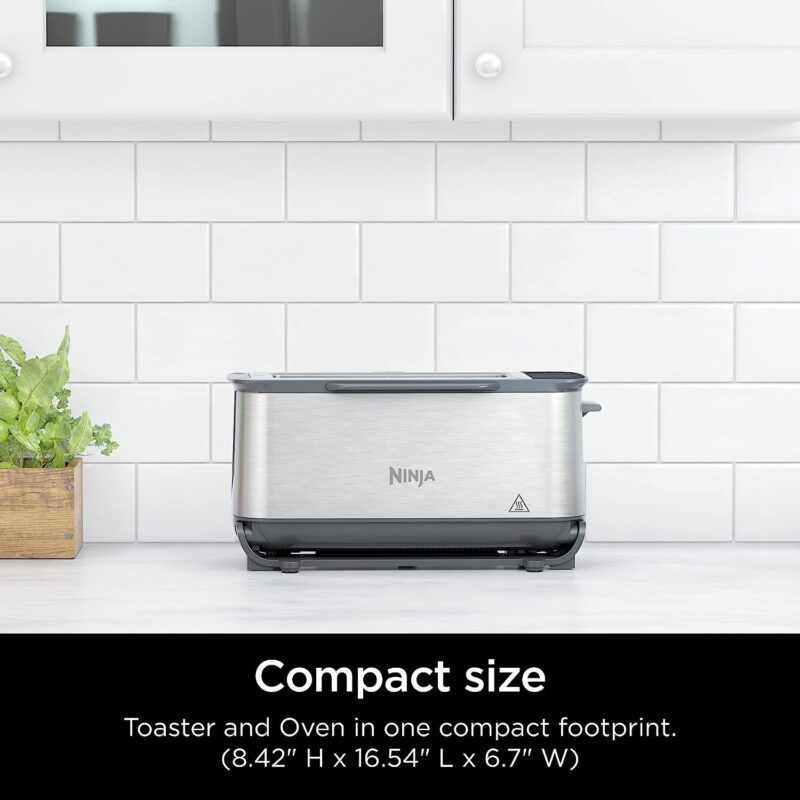 The ST100 Foodi is designed with the user in mind. Its intuitive controls and easy-to-read display make it a breeze to use. The toaster also features a crumb tray that can be easily removed for cleaning, ensuring hassle-free maintenance.
Conclusion
In conclusion, the ST100 Foodi 2-in-1 Flip Toaster is a game-changer in the world of kitchen appliances. Its combination of a toaster and a compact oven, along with its versatility and user-friendly design, make it a must-have for any kitchen. Say goodbye to boring toast and hello to a world of culinary possibilities with the ST100 Foodi. Upgrade your kitchen today and experience the convenience and excellence that this appliance brings.