In today's fast-paced world, kitchen efficiency is more crucial than ever. Whether you're a seasoned chef or just like to cook for family and friends, having the appropriate tools can make all the difference. The 2-in-1 Kitchen Colander Set with Bowl Strainer is one such product that has grown in favor in recent years. In this post, we'll look at the features and benefits of this kitchen device, as well as how it can help you save time in the kitchen.
The Ideal Blend of Style and Functionality
The 2-in-1 Kitchen Colander Set with Bowl Strainer is a multi-purpose kitchen gadget that may be used to simplify a variety of cooking and food preparation tasks. It is made up of two primary parts: a colander and a bowl strainer. These two components work in tandem to improve your culinary experience.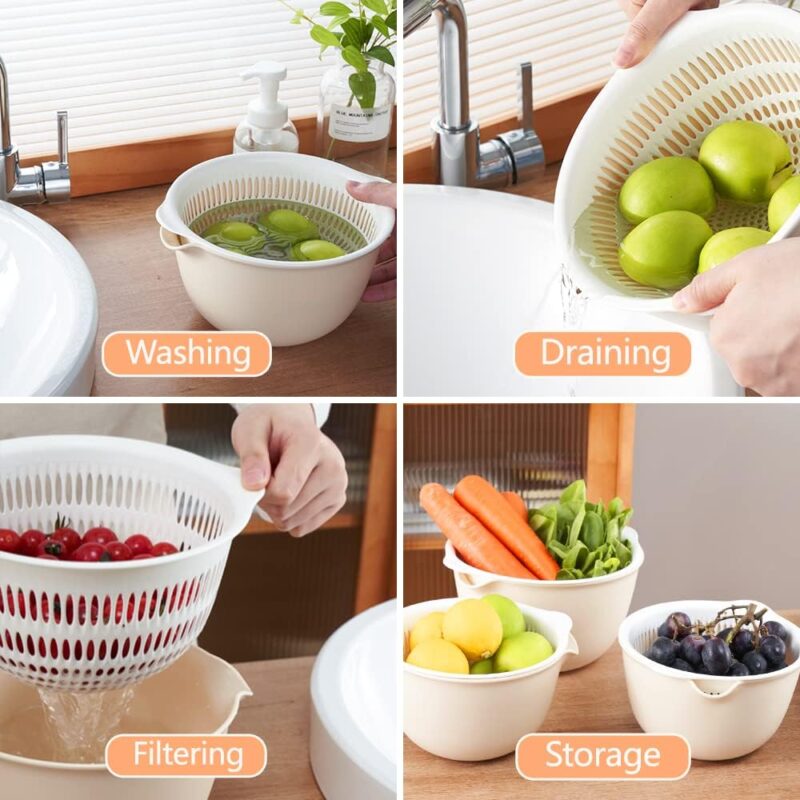 The colander is constructed of BPA-free plastic and has a perforated design that allows liquids to drain efficiently from meals such as pasta, grains, veggies, and more. Its wide base provides stability, and the ergonomic grips make it simple to hold and operate. The colander also has a built-in pouring spout, which makes it easy to transfer drained contents to other containers or serving dishes without spilling.
The bowl strainer that comes with it is equally excellent. Its designed to fit tightly inside the colander.
Streamlining your kitchen tasks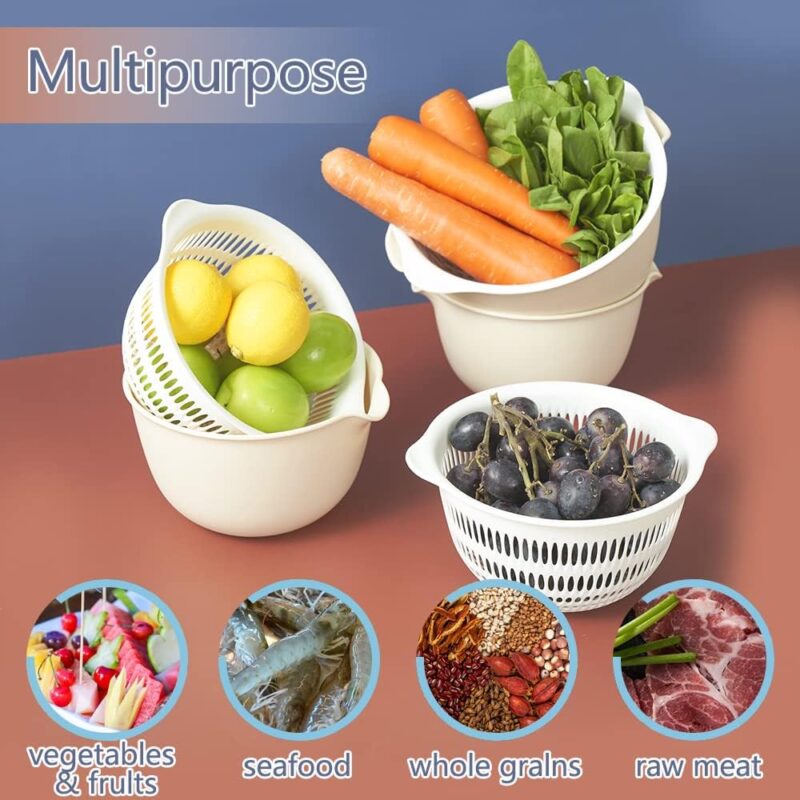 Now, let's explore how the 2-in-1 Kitchen Colander Set with Bowl Strainer can streamline your kitchen tasks:
Efficient Food Preparation: Whether you're washing vegetables, draining pasta, or rinsing rice, this kitchen set ensures that the process is quick and efficient. You can transition seamlessly from one task to another without the need for multiple utensils or containers.
Space-Saving Design: One of the standout features of this colander set is its space-saving design. The bowl strainer fits neatly inside the colander, making it easy to store in your kitchen cabinet or on your countertop without taking up excessive space. This compact design is a boon for those with limited kitchen storage.
Easy Cleanup: Cleaning up after cooking can be a chore, but with this colander set, it's a breeze. Both the colander and the bowl strainer are dishwasher-safe, so you can simply toss them in the dishwasher for hassle-free cleaning.
Versatility: The versatility of this kitchen gadget is another reason it's a must-have. It's not limited to just draining and rinsing; you can also use the bowl strainer for sifting dry ingredients like flour or powdered sugar. This multi-functionality reduces the need for additional kitchen tools.
Enhanced Safety: The BPA-free plastic used in the construction of the colander and bowl strainer ensures that your food remains free from harmful chemicals. Additionally, the ergonomic handles and anti-slip base of the colander enhance safety during use.
Customer reviews speak volumes.
To get a better understanding of the 2 in 1 Kitchen Colander Set with Bowl Strainer's performance, we turned to customer reviews on the popular online marketplace, Amazon. With an average rating of 4.5 stars out of 5, it's clear that this kitchen gadget has won the hearts of many satisfied customers.
Customers praise the set for its durability, ease of use, and the time it saves during meal preparation. Many users have mentioned that it has become an indispensable tool in their kitchens. They also appreciate the fine mesh of the bowl strainer, which effectively sifts and strains, leaving their ingredients clean and ready for cooking.
One customer wrote, "This colander set has made my cooking experience so much smoother. I love how I can use it for different tasks without having to switch between multiple tools. Plus, it's easy to clean, which is a big bonus for me."
Another reviewer noted, "I've used many colanders in the past, but this one stands out. The quality is top-notch, and it's so versatile. It's great for washing vegetables, draining pasta, and even sifting flour for baking. I highly recommend it."
Final Thoughts
In today's fast-paced world, efficiency in the kitchen is a necessity. The 2-in-1 Kitchen Colander Set with Bowl Strainer offers a smart and convenient solution to streamline your kitchen tasks. Its durable construction, space-saving design, and versatility make it a valuable addition to any kitchen.
Whether you're an experienced chef or someone who enjoys cooking as a hobby, this colander set can help you save time and effort in the kitchen, allowing you to focus on creating delicious meals for yourself and your loved ones. So, why not give it a try and experience the difference for yourself? Your kitchen tasks will never be the same again.