Presentation is as important in the culinary arts as the flavor of the dish itself. Having the correct tools, whether you're a professional chef or a home cook, not only improves your cooking experience but also adds a sense of elegance to your kitchen. The Paisley Pattern Knife Set with Cover is one such gadget that combines practicality and flair.
The perfect blend of form and function
When it comes to kitchen knives, functionality is paramount. You need sharp, reliable blades that can effortlessly slice, dice, and chop a variety of ingredients. The Paisley Pattern Knife Set doesn't disappoint in this regard. Crafted from high-quality stainless steel, these knives are designed to maintain their sharpness over time, ensuring precision cutting for years to come.
The set includes a versatile range of knives, each designed to tackle specific kitchen tasks:
Chef's Knife: This knife is your go-to tool for chopping, slicing, and dicing. Its broad, sharp blade makes quick work of vegetables, meats, and herbs.
Serrated Bread Knife: Enjoy perfectly sliced bread without crushing it. The serrated edge effortlessly cuts through crusty bread, bagels, and pastries.
Utility Knife: With its smaller size, the utility knife is ideal for everyday cutting tasks, such as slicing sandwiches or fruits.
Paring Knife: Precise and nimble, the paring knife is perfect for peeling and intricate cutting, like removing seeds from peppers.
A Touch of Elegance
What sets the Paisley Pattern Knife apart? What sets this set apart from ordinary knife sets is its exquisite paisley pattern design. The knives feature a delicate paisley motif etched onto the blades, adding a touch of sophistication to your kitchen.
The paisley pattern isn't just for aesthetics; it also provides a non-stick surface, which makes slicing and chopping easier. Plus, the pattern is laser-etched onto the knives, ensuring it won't fade or wear off with time and use.
Safety First
Safety is paramount in the kitchen, and the Paisley Pattern Knife Set comes with a matching knife cover for each blade. These covers not only protect the blades from damage but also prevent accidental cuts when reaching into a drawer or knife block. This extra layer of protection ensures the longevity of your knives and keeps you and your family safe.
A Perfect Gift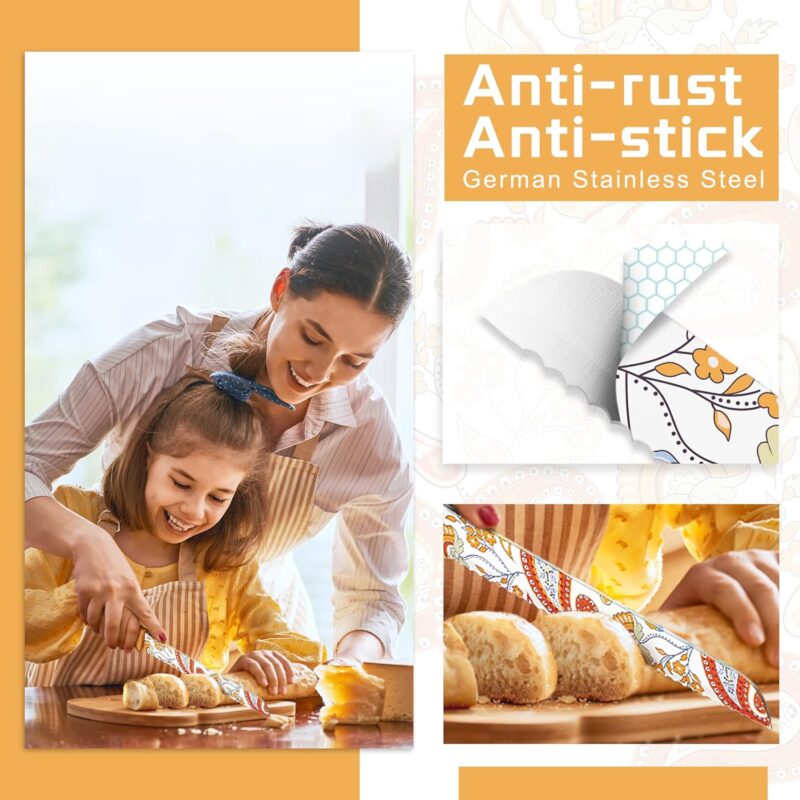 The Paisley Pattern Knife Set with Cover isn't just a practical addition to your own kitchen; it also makes for an excellent gift for weddings, housewarmings, or any special occasion. The stunning paisley pattern and thoughtful knife covers make it a present that's both beautiful and functional.
Conclusion
In the world of culinary craftsmanship, the Paisley Pattern Knife Set with Cover stands out as a remarkable blend of form and function. With its top-quality stainless steel blades, elegant paisley pattern, and included knife covers, it offers the best of both worlds for cooking enthusiasts and professionals alike.
Elevate your cooking experience and add a touch of sophistication to your kitchen with this exquisite knife set. Visit here to get your own Paisley Pattern Knife Set today and discover the joy of cooking with style and precision.