Magnetic Measuring Spoons Precision is crucial when it comes to cooking and baking. Accurate measurements are the foundation of culinary success, whether you're making a flavorful sauce, baking a delicate dessert, or experimenting with a new recipe. The Magnetic Measuring Spoons Set comes in handy here. In this post, we will look at the benefits of this amazing kitchen equipment and how it can transform your culinary experience.
The magnetic power
Traditional measuring spoons frequently have their own set of drawbacks. They're frequently difficult to keep together, simple to misplace, and difficult to clean. All of these concerns are addressed with the Magnetic Measuring Spoons.
The magnetic properties of these spoons are the key to their success. Each spoon in the set has a strong magnet incorporated in the handle. The spoons stack nicely together thanks to this basic yet innovative design, ensuring they stay organized and never go missing in your kitchen drawers. No more fumbling around for the proper spoon; the Magnetic Measuring Spoons Set keeps them attached and ready to use.
Precision and versatility
Accurate measurements are the cornerstone of any successful recipe. The Magnetic Measuring Spoons Set provides a wide range of measurement options, including 1/4 teaspoon, 1/2 teaspoon, 1 teaspoon, and 1 tablespoon. This versatility means you can handle a vast array of recipes with confidence, from precise seasoning to baking ingredients.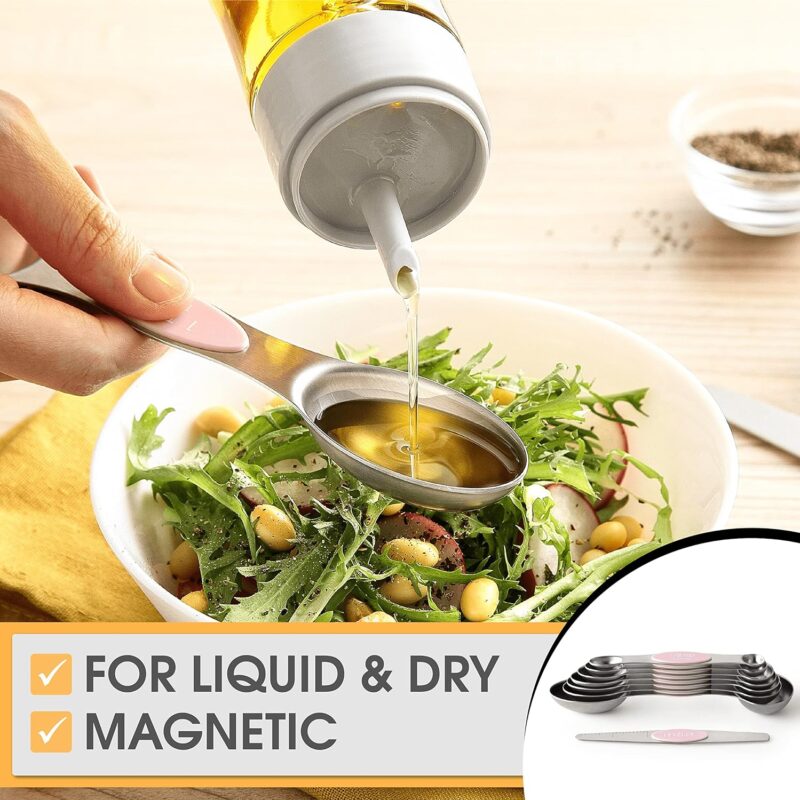 The clearly marked measurements on each spoon make it easy to identify the right one at a glance. No more squinting at faded labels or trying to decipher confusing markings. Cooking becomes a breeze with these spoons in your arsenal.
Durability and Ease of Cleaning
The Magnetic Measuring Spoons Set is built to last. Crafted from high-quality stainless steel, these spoons are not only sturdy but also resistant to corrosion and staining. This ensures they remain in excellent condition even after years of use. Say goodbye to the frustration of replacing flimsy plastic spoons that wear out quickly.
Cleaning these spoons is a breeze as well. Thanks to their stainless steel construction, they are dishwasher-safe, making cleanup after a cooking or baking session a hassle-free experience. No more tedious handwashing or scrubbing to remove stubborn residue.
Space-Saving Solution
Kitchen real estate is precious, and clutter can make cooking a stressful experience. The Magnetic Measuring Spoons Set helps you reclaim your kitchen space. The magnetic design keeps the spoons neatly stacked together, occupying minimal space in your drawers. This smart solution not only saves space but also makes your kitchen look organized and tidy.
Environmentally Friendly
In today's world, being mindful of the environment is more important than ever. The Magnetic Measuring Spoons Set is an eco-friendly choice for your kitchen. By choosing stainless steel over disposable plastic alternatives, you're contributing to a reduction in single-use plastic waste. It's a small step that can make a big difference.
The Wonderful Present
The Magnetic Measuring Spoons Set is a fantastic choice as a present for a food enthusiast, home cook, or anyone who appreciates spending time in the kitchen. Because of its creative design, durability, and utility, it is a present that will be enjoyed and used for many years.
Customer Reviews
To understand the true value of the Magnetic Measuring Spoons Set, let's take a look at what some satisfied customers have to say:
Mary from New York: "I've had my Magnetic Measuring Spoons Set for over a year now, and I couldn't be happier. They've replaced my old, flimsy plastic spoons, and I love how easy they are to keep together. No more rummaging through my drawer to find the right spoon!"
John from California: "As a baker, precision is everything to me. These spoons have made a world of difference in my recipes. They're sturdy and easy to clean, and the magnetic feature is a game-changer. Highly recommended!"
Sarah from Texas: "I received the Magnetic Measuring Spoons Set as a gift, and it's become an essential part of my kitchen. They're not just practical; they also look great with their sleek stainless steel finish."
Conclusion
The Magnetic Measuring Spoons Set is a kitchen must-have for anyone serious about cooking and baking. Its magnetic feature, precision measurements, durability, and eco-friendliness make it a standout choice in the world of kitchen tools. Say goodbye to the frustration of disorganized utensils and hello to a more efficient and enjoyable cooking experience.
If you're ready to elevate your culinary skills and simplify your kitchen routine, consider adding the Magnetic Measuring Spoons Set to your collection. It's a small investment that will pay off in countless delicious meals and desserts. Say goodbye to chaos and hello to precision with this innovative kitchen tool.