If you've ever indulged in the creamy, caramelized delight of Crème Brûlée, you'll understand the importance of that perfect, crackling sugar crust. It's the defining feature of this classic dessert, and achieving it is an art form in itself. To create this masterpiece in your kitchen, you need the right tool—a torch that's reliable, easy to use, and capable of delivering that crisp, golden top. Enter the FireClick Crème Brûlée Torch.
The Torch That Sets the Standard
FireClick is no stranger to the world of culinary tools. They've built a reputation for producing high-quality kitchen equipment, and their Crème Brûlée Torch is no exception. It's designed with both amateur home cooks and professional chefs in mind, ensuring that everyone can create that perfect Crème Brûlée.
Key Features
1. Precision Flame Control
One of the standout features of the FireClick Crème Brûlée Torch is its precise flame control. With an adjustable flame intensity, you can customize the heat to suit your needs. Whether you're lightly caramelizing the sugar on a delicate dessert or searing a steak, this torch offers the flexibility required for various culinary tasks.
2. Safety First
Safety is paramount in the kitchen, and FireClick has considered this aspect carefully. The torch comes with a safety lock to prevent accidental ignition, ensuring that you can store it with peace of mind. Additionally, the ergonomic grip provides a comfortable and secure hold, reducing the risk of accidents.
3. Durability
The FireClick Crème Brûlée Torch is built to last. Crafted from high-quality materials, it can withstand the rigors of regular kitchen use. Whether you're a professional chef using it in a bustling restaurant kitchen or a home cook who enjoys whipping up exquisite desserts, you can trust in the longevity of this torch.
4. Easy refilling
This torch is designed for convenience. It features a transparent fuel gauge, allowing you to keep an eye on the butane levels and refill it as needed. You won't find yourself unexpectedly running out of fuel in the middle of creating your culinary masterpiece.
5. Versatility
While the FireClick Crème Brûlée Torch is ideal for caramelizing sugar on Crème Brûlée, it's not limited to just one use. Its versatility shines as it excels in various cooking tasks, such as searing, browning, and roasting. It's a versatile addition to any kitchen.
How to Use the FireClick Crème Brûlée Torch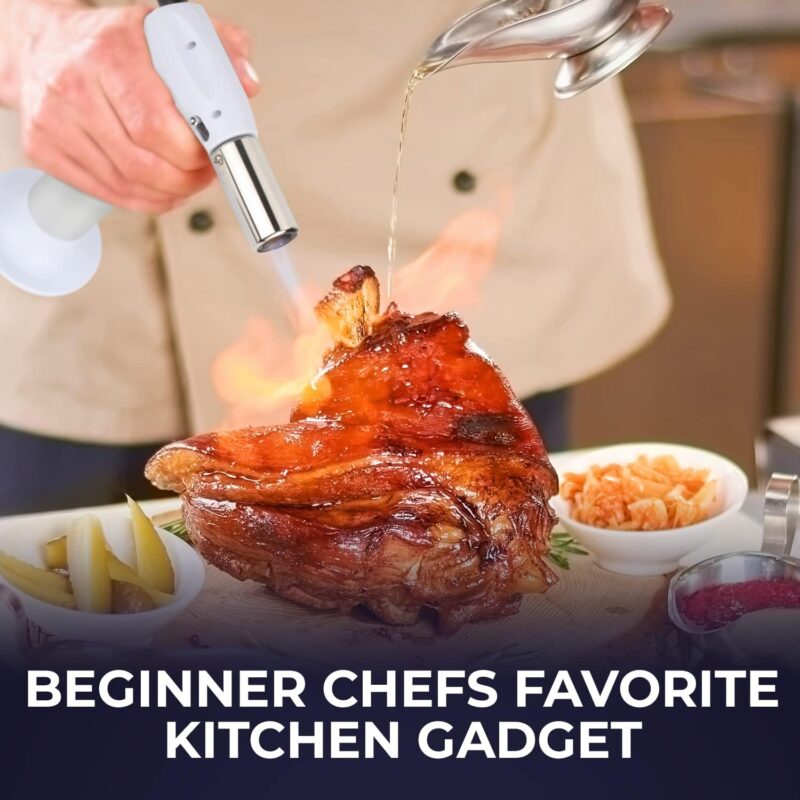 Using this torch is a breeze.
Fill with Butane: First, fill the torch with butane gas using a butane refill canister. The transparent fuel gauge lets you know when it's adequately filled.
Adjust Flame Intensity: Use the flame adjustment knob to set the desired flame intensity.
Ignition: Press the ignition button to ignite the torch.
Caramelize: Hold the flame over the sugar or desired area until it reaches your desired level of caramelization.
Safety Lock: After use, engage the safety lock to prevent accidental ignition.
Why Choose the FireClick Crème Brûlée Torch?
There are plenty of culinary torches on the market, but FireClick stands out for several reasons:
Quality: FireClick is renowned for its high-quality kitchen equipment, and this torch lives up to its reputation.
Safety: The safety features, including the lock and ergonomic grip, make it a safe choice for every kitchen.
Versatility: Beyond Crème Brûlée, it's a versatile tool for a range of culinary tasks.
Durability: This torch is built to withstand the demands of a busy kitchen.
Conclusion
The FireClick Crème Brûlée Torch is the ultimate tool for culinary perfection. Whether you're an experienced chef or a home cook looking to elevate your desserts, this torch will help you achieve that perfect caramelized sugar crust every time. With precision flame control, safety features, and durability, it's a reliable companion in the kitchen. Don't miss the chance to bring the art of crème brûlée to your home with this exceptional torch.